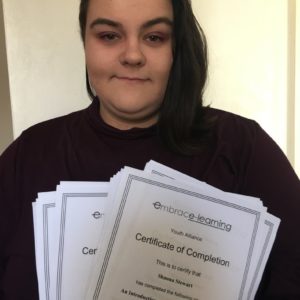 Shauna - Cumbria Youth Alliance
Through COVID 19 and lockdown, Cumbria Youth Alliance have been working with young people in a different way, facing new challenges and obstacles along the way.
Shauna joined the Choices programme funded through The National Lottery Community Fund and the European Social Fund, which is a partnership programme led by Groundwork, with other delivery partners including Citizens Advice Copeland, West House and Mind in Furness in July 2019. She has faced difficulties throughout her life not knowing what to do and who to turn to. CYA have offered her the opportunity to complete the education she never got. She has completed and gained certification for over 60 modules on the Embrace Online learning and she has started doing her English qualifications with Cumbria County Council Learning & Skills. An outstanding achievement and well done.