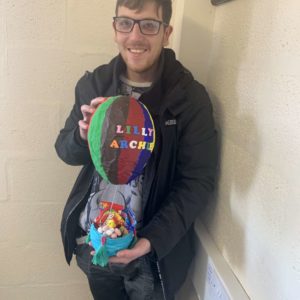 Ricky - Groundwork, Workington
When Ricky joined the Choices programme, he lacked confidence in social situations and didn't feel comfortable in groups. He had worked previously and wanted to do so in the future but he wanted to work with us to improve his confidence in social and work situations.
Ricky started coming to our coffee mornings and quickly he became a regular attender, soon helping new participants feel at ease in the group.
Ricky went on from this to do voluntary work with Tivoli (ground works and maintenance) through the summer of 2019 and became such a valued member of the team they offered him a job in the 2020 season.
As well as this Ricky (being the dead creative sort) felt confident enough to involve himself with running a Pyrography (wood burning) group here on the Choices programme for our participants.
Ricky put a lot of his time in with Choices….but in return, he got loads out…WELL DONE RICKY!!