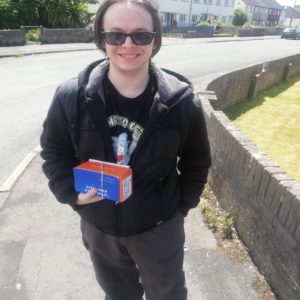 Mobile Phone Donation
The use of online platforms for training, information and guidance, day to day tasks such as shopping and government services has increased significantly in recent times.
The withdrawal of 'face to face' contact from support services, and the temporary closure of many businesses due to the covid 19 restrictions, has led to some people without the internet or a suitable phone becoming more isolated and unable to access the help they need.
Choices has worked with charitable organisations focussing on digital exclusion and has secured mobile phone and data packages to help some of our participants stay in contact with their key workers, other essential contacts and to go online.
A big thank you to Business in the Community and their donor partner, Tesco Mobile. This donation will make a really positive impact on the lives of our participants.
Our Key Worker Andy in Millom received this thank you text message after personally delivering a Tesco smartphone to a young participant who lives alone.
The phone and generous pre-loaded calls and data allowance were provided through the Business in the Community to allow our participant to keep in touch with Choices Cumbria and access online training and advice to plan for a more positive future.
"Thank you Andy, I really appreciate you helping me. Before moving to Millom I didn't get any help like this from family or school."