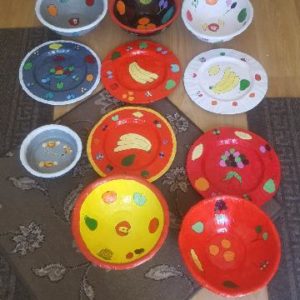 Marise - Groundwork, Workington
Before Marise joined CHOICES she painted and drew for family and friends. Unfortunately, a bereavement turned her life upside down and she could no longer find solace in her pens and paints.
When Marise came on to the programme she started to come to different activities, and started to come out of her shell by talking to others and sharing her ideas with them. When new people come onto the programme she takes them under her wing, makes sure they are included and encourages them by showing that she is willing to try most things.
During arts and crafts sessions she has drawn on her hidden talents, she took on a mammoth task of hand making over 150 poppies for our office Remembrance Day display. She was also a huge help in creating the Christmas window display, and even created an Easter display for a local care home. Now, during the current lockdown, she is keeping herself busy crafting, making and decorating papier mache dishes to share with the other participants when we get to see each other again. So far she has made over 20 dishes, and has no plans to stop yet.