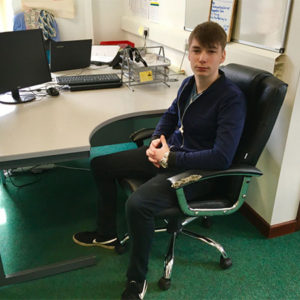 Connor (Cumbria Youth Alliance – Keyworker Karen)
Connor is 19 and from Maryport. He has worked closely with Karen through The BBO Choices programme and was over the moon to hear this week that got his dream job with The Rural Payments Agency. He will be putting his skills and good manners to good use working for The Agency in a customer service & business administration role.
"I just wanted to say thank you to CYA and Choices. CYA helped me get a job and have continually helped me, I have been given great advice and information. CYA guided me to the right projects that would benefit me and help me get into a job and anything else I needed. They removed all of my barriers from starting work and helped me keep motivated while looking for work. CYA understands what it's like not to be in work and does everything they can to support you into training and work".
Conner has taken every opportunity to develop his skills and I'm sure will be a real asset to his new employer, well deserved Connor!